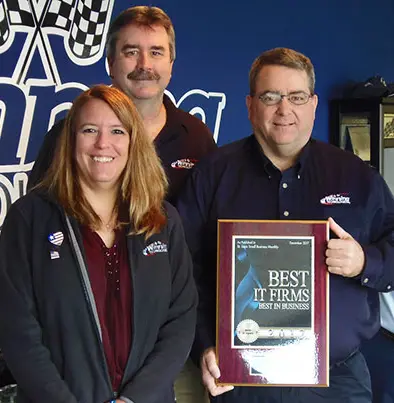 2017's


Best IT Firms Award
Winning Technologies management team holding the Best IT Firms Award 2017.
The Best in the
Technology Business
Dedication to our client's success has always been an area of pride of our company. In striving to achieve this, it is always humbling to be recognized in the community and in our industry.
Our success is really a by-product of the employees we have and their commitment to meeting our goals and objectives as they help our clients reach for success through the use of technology.
We have, and have had, some outstanding employees and consultants that have worked with us over the years and it is because of their efforts that we get these moments of recognition.
See how our

Award Winning Service

can help you!
Let the Numbers Speak for Us:
Customer Satisfaction Rating
Highly Specialised Employees
Countries Around the World

Best in Business: Best IT Firms
2017
Top Family Owned Business
2013 & 2016
Leaders in Technology
2015
Top Woman Owned Business
2010, 2011, 2012, 2015, 2016, 2017 & 2018
Top 100 St. Louis People You Should Know
2013, 2014, 2015 & 2017
Best in Business
2010, 2015 & 2016
Best Businesses in St. Louis
2013
Hot Products Innovative Showcase
for XpressStor Online Backup 2011 & 2012
Top Technology Company
2010 & 2011
Heartbeat of America Entrepreneurial Company
2009